Welded Wire Mesh Hardware Cloth:
Industrial Hardware cloth is made into two kinds: woven mesh and welded wire mesh hardware cloth while the latter offers much better strength, corrosion resistance and better fabrication products.

Welded mesh can be made from a variety of materials, including carbon steel wire, stainless steel or plastic coated iron wire. Welded prior to galvanizing or after galvanizing.

In the forms of rolls or panels, for construction, fences and other industrial uses.
It enjoys the feature of corrosion resistance compared with plain welded wire mesh. Mainly used as fencing panels or further fabricated into wire partitions, wire container panels, wire baskets, welded wire fences, poultry fences and other welded products.
Application:
In construction in the form of reinforcement brick mesh, welded bar gratings or wire mesh sandwich construction. A wire mesh sandwich construction which comprises an array of line wires, an array of cross wires overlying said array of line wires and a barrier material disposed between the array of line wires and the array of cross welded wires. The array of line wires is joined to said array of cross wires at the points of intersection and through the barrier material, thus securing the barrier material between the array of line wires and the array of cross wires.

Typical Sizes:
5/8" x 5/8", Wire Gauge 18,19,20,21;
3/4" x 3/4", Wire Gauge 16,17,18,19,20,21;
1" x 1/2", Wire Gauge 16,17,18,19,20,21;
1-1/2" x 1-1/2", Wire Gauge 14,15,16,17,18,19;
1" x 2", Wire Gauge 14,15,16;
2" x 2", 12,13,14,15,16
Standard roll length: 30m;width: 0.5m to 1.8m
Special sizes welded wire mesh is available at request
Packing: Welded mesh is wrapped in waterproof paper in rolls. Then in cartons or in pallet.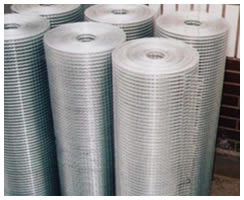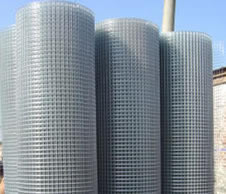 Varieties available according to processing and finish treatment

Welded Hardware Cloth General Technical Information

Electro Welded Hardware Cloth in Carbon Steel

PVC Coated Welded Hardware Cloth

Colors available for plastic coated hardware cloth

Heavy Welded Hardware Cloth

Welded Hardware Cloth made from Stainless Steel
Light Type Welded Mesh Hardware Cloth