Vinyl coating adds uniform protection layer for wire mesh fabrics made of galvanized steel wire or HDG steel wire. Hexagonal mesh, square wire mesh, welded wire mesh can all be processed in the form of vinyl coated for surface treatment.

Weaving patterns are commonly plain weave and twill weave. Illustration as follows: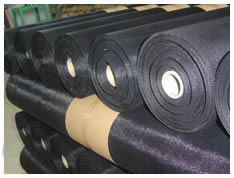 Vinyl coated wire mesh is supplied in more beautiful and multicolors compared with traditional black iron wire mesh, galvanized ones. And it comes with the surroundings even more easily.

Black is the most popular color used in producing of vinyl coated wire mesh hardware cloth and common sizes for this kind of hardware cloth as follows:

1/4"X1/4" BWG23
3/8"X3/8" BWG19,20,21,22
1/2"X1/2" BWG16,17,18,19,20,21,22,23,24
3/4"X3/4" BWG16,17,18,19,20,21,22
1"X1/2" BWG16,17,18,19
1"X1" BWG14,15,16,17,18,19,20,21
1"X2" BWG14,15,16
2"X2" BWG14,15,16,18

Material:
Galvanized wire, redrawing galvanized wire
Surface treatment: electro-galvanized, hot-dipped galvanized, then vinyl coated
Vinyl coated mesh hardware cloth is used on the industry, agriculture, building, transportation, mine, field, lawn, cultivation, Profession's guard, decorate, machie protection etc.
It is supplied in rolls or cut into pieces. For mesh opening, roll length, width and cut into pieces service, we can custom produce for our customers.