Alkali Resistance Vinyl PVC Coated Steel Wire Chain Link Hardware Fence
It is also known as Rhombic wire fence, diamond wire mesh , made of high quality low carbon steel wire, aluminium alloy wire and pvc wire .

It is widely used as barrier for lawn , airport , railways , expressways ,etc .
Application :
Extensive rearing chickens , ducks , geese, rabbit , and zoo fence .
Mechanical protection , sports venues fence, the road network of green belt protection .
Protect and support the seawall ,hillsides , highways and bridges .
Reservoirs and other flood control and flood civil engineering.
PVC coated chain link fence is mainly used as fences for playground and gardens, super highway, railway, airport, port, residence, etc. Chain link fence is also used in breeding of animals.Colors available for PVC coated chain link fence: Green, blue, white or other colors at customers request.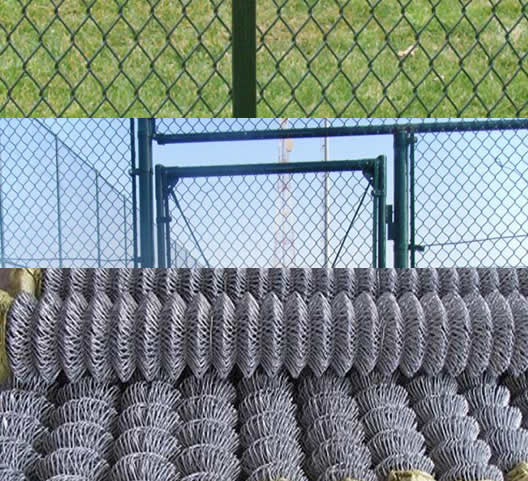 PVC coatings for Galvanized Chain Link Fence Hardware Fabrics are made with wires pregalvanized. The wires are galvanized and the minimum zinc weight for horizontal wires is 275 g/m2 and for the vertical wires is 290 g/m2. With zinc protective layer, the gal. steel fence offers a good acid and alkaline resistance and is suitable for outdoor fencing uses against weather and sunshine. We offer fence fabrics and matching posts to complete the fencing system. The fence posts are also made of carbon steel treated with galvanizing coating layer. Posts types include peach post, square post, Holland posts. Galvanized chain link can also be used as decorative mesh in modern buildings.
Why Galvanized Steel PVC Coated Chain Link Fence a universal fencing?
PVC Galvanized steel chain link fence is supplied in mesh rolls. We supplies various chain link wire mesh for customers, mainly galvanized chain link fence (two types: electro galvanized and hot dipped zinc plated fence),PVC coated iron chain link fence.
Galvanized chain link fence is the most popular and economic cost type. Other types of chain link costs higher due to more processing steps involved ( for example, the plastic coated chain link fence needs additional plastic coating besides galvanizing) and materials cost ( for example, stainless steel costs much higher compared with mild steel wire applied for the galvanized steel chain link mesh).
So, if you emphasize on colors, plastic coated chain link fence is your best choice for it can be painted freely to many colors.
Stainless steel chain link fence come to the application of high grade fencing and maintaining free sites;
Galvanized fence is chosen for its zinc protective property, economic cost and bright shine surface.
Features:
Steel wire mesh fencing provides an aesthetically pleasing yet strong barrier. Each fence panel is produced by an automatic hooking woven process. The simple, clean lines are particularly suitable for both prestige and security applications including residential, sports, leisure and industrial uses. Woven diamond pattern provides strong, durable and flexible construction.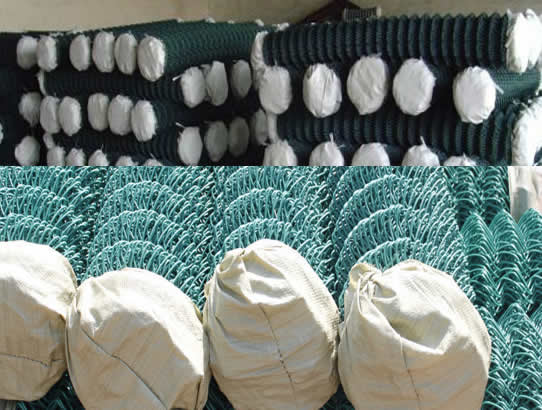 PVC coated Easily Assembled Metal Chain Link Mesh fence
Style -high security chain link fence with razor barbed wire and barbed wire.
material:galvanized steel barbed wire or pvc coated steel razor wire
opening (mesh) 50*50mm, 60*60mm
height 4 foot, 5 foot, 6 foot, 8 foot
length 10m, 15m, 20m, 25m, 30m, 50m.