Black wire mesh hardware cloth can be processed into filter discs of various sizes.
Material: Super quality low carbon steel wire.
Weaving: Plain or twill woven wire.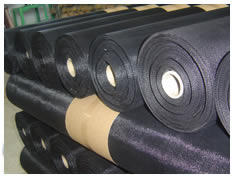 Plain Weave Illu / Twill Weave Illu
Specialists in cut to size panels in all shapes including, squares, rectangles and circles in all materials and mesh sizes.
Use: Black Wire Hardware Cloth is mainly used in filtration of rubber, plastic, petroleum and grains industry
Sizes of Iron Wire:

Wire Gauge

SWG in mm

BWG in mm

In Metric System mm

8#

4.06

4.19

4.00

9#

3.66

3.76

-

10#

3.25

3.40

3.50

11#

2.95

3.05

3.00

12#

2.64

2.77

2.80

13#

2.34

2.41

2.50

14#

2.03

2.11

-

15#

1.83

1.83

1.80

16#

1.63

1.65

1.65

17#

1.42

1.47

1.40

18#

1.22

1.25

1.20

19#

1.02

1.07

1.00

20#

0.91

0.89

0.90

21#

0.81

0.813

0.80

22#

0.71

0.711

0.70