Stainless Steel Welded Mesh is made of stainless wire 304, 302 or 316 with great corrosion resistance. Welded stainless mesh is widely used in many industrial purposes. This corrosion resistance meshed wire is long lasting and is widely used in mining, transportation, agricultural, entertainment and other service sectors.
Stainless Steel Welded Mesh use the common materials: Stainless Steel Grade 304, 316 with the international standard. This kind of welded wire mesh is no need with surface treatment. It has the features of corrosion resistant, being strong and lasting long time.
Advantages:
Stainless Steel Welded Mesh enjoys excellent corrosion resistance, beautiful look, longer work time, compared with galvanized welded iron wire mesh or PVC coated welded iron wire mesh, which can compensate for its seemingly higher cost. Stainless steel welded wire mesh offers better strength, integration and longer work time compared with other wire mesh products. Welded stainless wire mesh is durable, corrosion resisting and firm in structure.
Welded Stainless Steel Hardware Cloth
Mesh Size available: 1/2" 1" 1/4" 3/8" 2" 3/4".
Material : stainless steel wire, Hot-dipped galvanized iron wire, Electro galvanized iron wire, black iron wire .
Types: hot dipped galvanized hardware cloth, electro galvanized hardware cloth, stainless steel hardware cloth, Pvc -coated hardware cloth.
Stainless Steel Welded Mesh Cloth Opening : 1/2" x 1/2" , 1" x 2", 1" x 1", 3/4" x 3/4", 1/2" x 1/2", 1/2" x 1",1/4" x 1/4" , 2 " x 2", 3/8" x 3/8", etc.
Woven Stainless Steel Hardware Cloth
Sizes: Standard roll width: 1m to 48".Standard roll length of stainless steel wire mesh: 10m---100"
Applications: Used for separation of solids and clear filtration of liquids, as in the cleaning of fuels or hydraulic liquids, or in water treatment]wire mesh ,mine, petroleum, chemical, foodstuff, pharmaceutical, mechanical industries.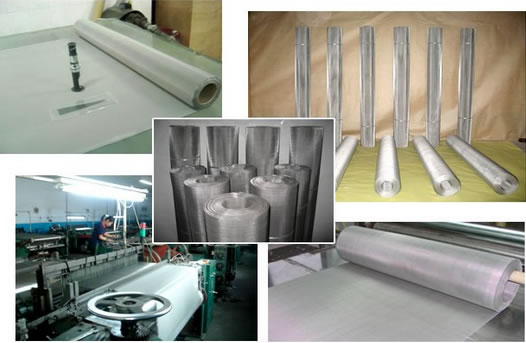 Specification list of woven stainless steel hardware cloth
Mesh/inch
Wire diameter(mm)
Aperture (mm)
Filtration area%
Mesh/inch
Wire diameter(mm)
Aperture (mm)
Filtration area%
5
1.00
4.08
64
100
0.11
0.144
32
6
0.9
3.33
62
120
0.09
0.122
33
8
0.7
2.47
61
150
0.065
0.104
38
10
0.5
2.04
64
200
0.05
0.077
37
12
0.5
1.62
59
200
0.04
0.084
47
14
0.5
0.50
52
250
0.04
0.062
37
16
0.35
1.24
61
250
0.035
0.067
43
18
0.28
1.13
64
250
0.03
0.072
50
20
0.35
0.92
52
300
0.04
0.045
28
24
0.35
0.71
45
300
0.03
0.055
42
28
0.35
0.56
38
325
0.035
0.043
30